Digital fashion sketching with Tayasui Sketches app
There aren't many apps I enjoy as much as I do digital fashion sketching
with Tayasui Sketches app.
it's my number one choice for any beginner getting started with digital fashion sketching. Tayasui Sketches isn't any the less for being a super app to learn on. I tried many apps before I found myself totally at home in Tayasui Sketches.
FIRST AND FOREMOST:
y'all know that I am OBSESSED with analog: art supplies, pencil and paper, clay, earth, mess, texture, touch, crumble, wrinkle and smudge. My private
Soulful Fashion Foundation Immersion Intensive program
is totally electronic-free (immmm except, of course, that it takes place on the web…..), focused on watercolors, papers, pencils, fabrics.
I was technically internet illiterate.
When Parsons School of Fashioh asked me to develop their first online fashion studio course in 2007, , I resisted. I didn't use social media except email, nor the computer for anything else. I felt un qualfied technically.
When I started writing my book, I got on Facebook for the first time to hook up with former students.
When I signed up with Marie Forleo's B-School, I started to learn social media and marketing from practically zero. I built my own website. Two years ago.
There is an identity crisis that looms over me when I tackle something so foreign, where I know I have to learn new skills!  It's good for me to stay in touch with this energy, because it keeps me on the same page with my students, who are also freshly embarking on something new.
So NOW: I have been avoiding digital sketching for fashion illustration forever.
My course will still be analog art and design studies, but I am definitely going to keep exploring these media and different apps and
reporting back to you
. So here's the first step to what I've learned about digital sketching for fashion illustration.  And a bit about marketing and relationships.
First, I spilled coffee all over my Macbook.
When I took it in to fix it, I got an iPad mini, with money my 13 year old son lent me from his Youtube earnings (I had just been laid off and had a little baby) I got the mini because I run an online VISUAL business, and you really can't do that out of an iPhone 4!! (of course you can). I AM IN HEAVEN. I can finally see what I"m posting on instagram haha!! I found a beautiful photo on Pinterest of this outfit by
StudioOneEightyNine.com
, a company started by Rosario Dawson and Abrima Erwiah (They recently posted my illustration on their instagram with a shout out. I am SO EXCITED!!)
(if you love Prints or African Fashion Design, come follow my boards!!) Or follow all of them!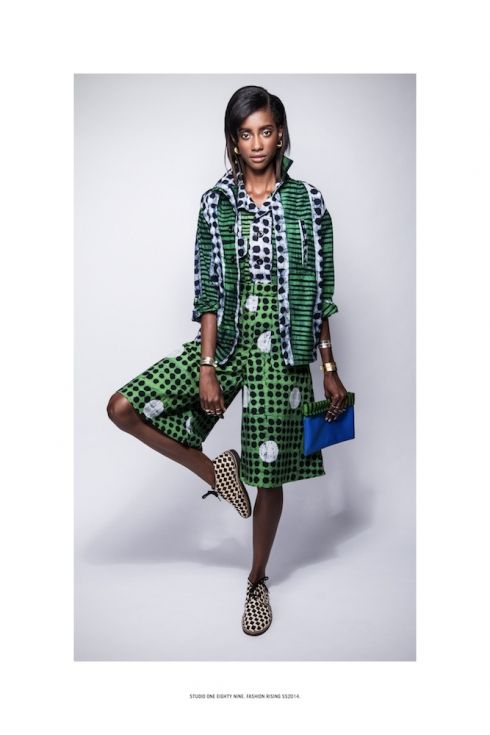 Stunning look, right?
Well, depends on your taste, you know I LOVE rhythmic patterns and handcrafted things.  (On some level maybe I recognized, without realizing it, that the pieces were from Ghana. I used to spend a lot of time around Ghanaian fashion in NYC.) I loved that there would be a challenge to create the batik, printed effects by digital fashion sketching with Tayasui Sketches app.  And the thing that has always bothered me about
digital  fashion drawings is the degree of flatness and smoothness
that is in the medium.  It feels cold to me.  This look gave me something to really sink my teeth into :0) Here is my  finished fashion illustration with the batil fabric rendered :(i'll break it down into some steps for you)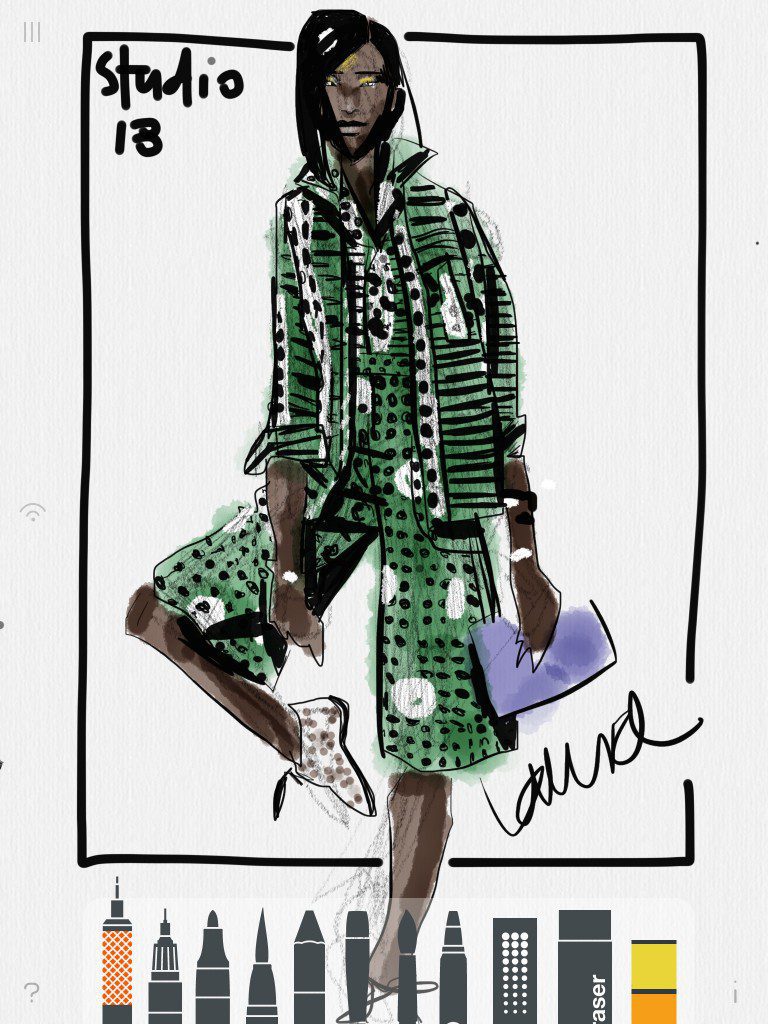 So here is some of my process:
I sketched from the photo on Pinterest in my Macbook using the
SKETCHES app
on my iPod mini also using the
53stylus
. ( I don't use that stylus anymore and I really never liked it. It's too "sticky" and big. I have downloaded and have been testing lots of
digital apps for fashion illustration
,
but there is no way I will recommend any other app for starting to draw
.  I SIMPLY CANNOT SAY ENOUGH about how awesome the
Tayasui SKETCHES
app is. I started with the pencil tool, sketching out the figure with balance and action. I almost always start by sketching the body like this, and leaving those lines on the page and in my drawing.  They give it life, for me. They also give me a "safe" road map to paint and draw over.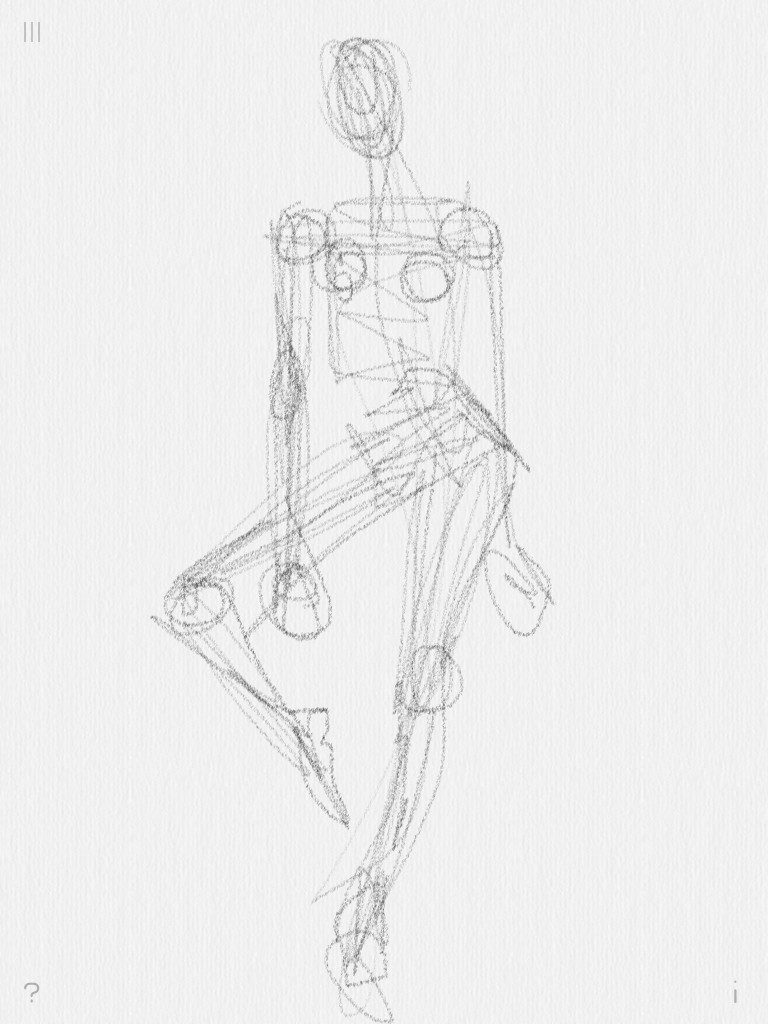 You can see the brush pen is highlighted in RED in the photo, that shows which tool I am using. There are settings for the color of the brush, the size of the brush, and whether it goes from thick to thin or thin to thick.  Notice the gorgeous line variation here. It wasn't responding to stylus pressure,  VARIATION OF LINE is GORGEOUS and easy on the eye, and it's built in to useing the brush pen tool on Tayasui Sketches. A YAY for fashion illustrators!. Also, thicker lines UNDER things or between layers can indicate shadow and create depth and space. This tool creates opaque lines.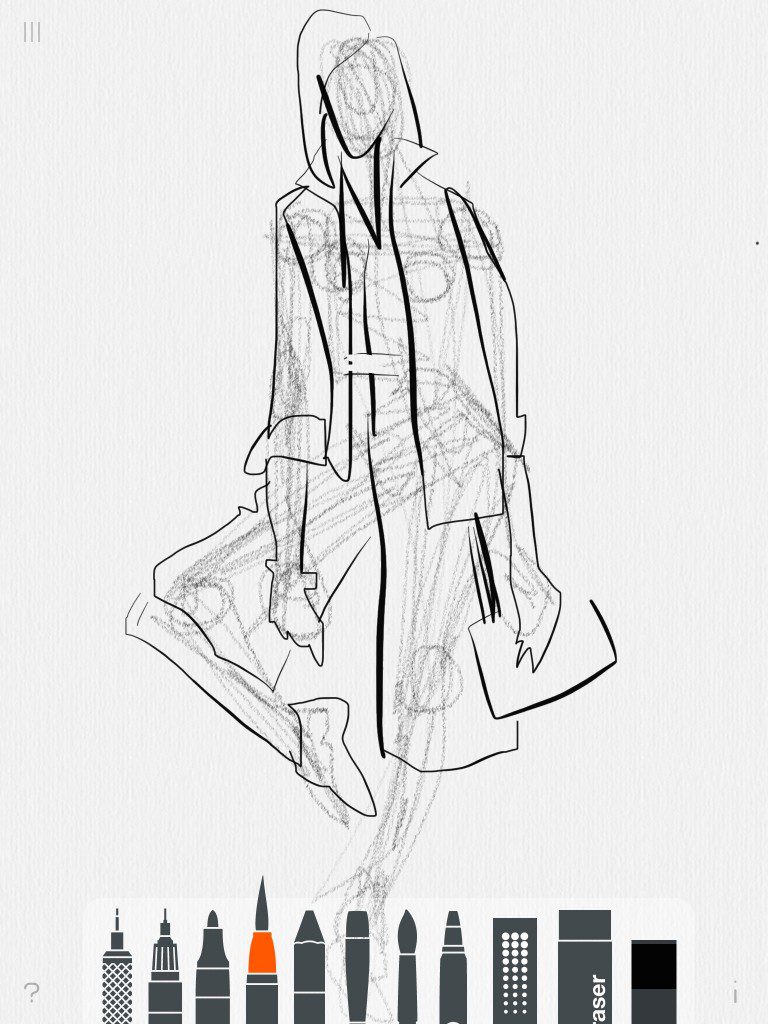 Just like in my analog fashion sketching process
that I teach in my
FREEDOM FASHION design program
, I now came in with watercolors: the watercolor brush tool . I laid down my base color for the print, everywhere. Every time I remove my stylus an then go back in, the color gets more saturated and rich. on this app, the tool is SHEER, not opaque. Gouache paints would have a certain level of opacity to them. Also, note that I started with the
WATERCOLOR PAPER bas
e. See the texture on here? I select that within the app, there is a smoother, non textured background available, but why would I want that ? ;0)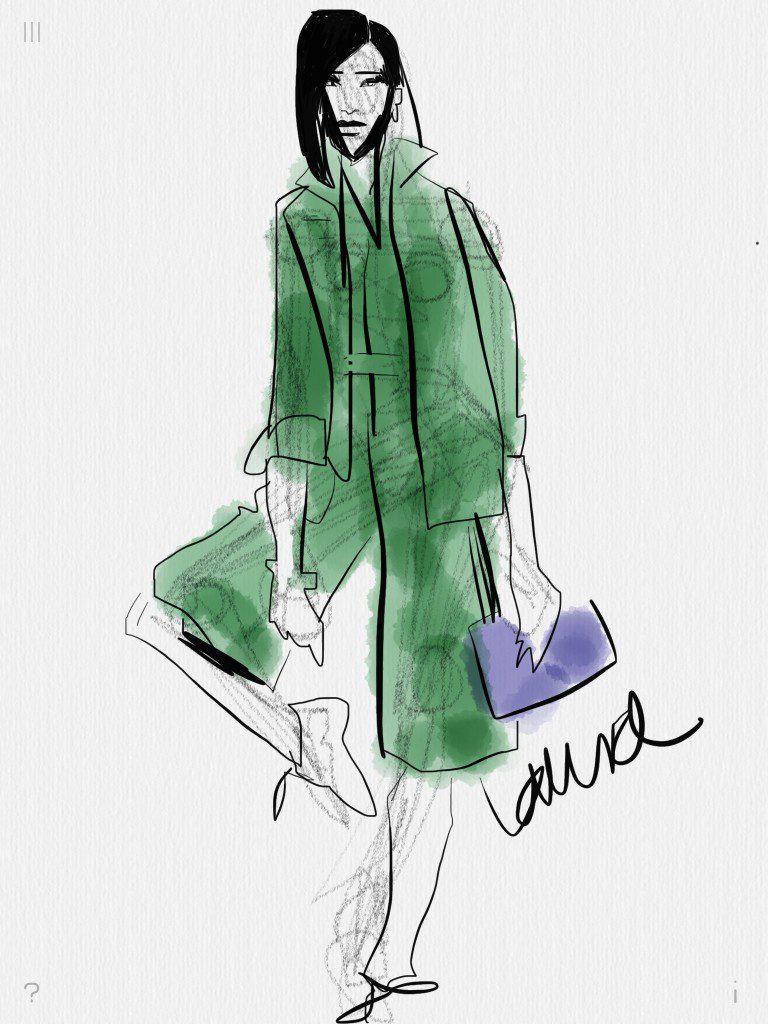 I used the
round
 tip marker tool (there are other options such as chisel design marker tips in there)  to create the pattern on the shoes below, and the CRAYON tool in white (opaque color) to create the largest batiked motifs in this fashion sketch. It was the biggest motif on the handmade fabric.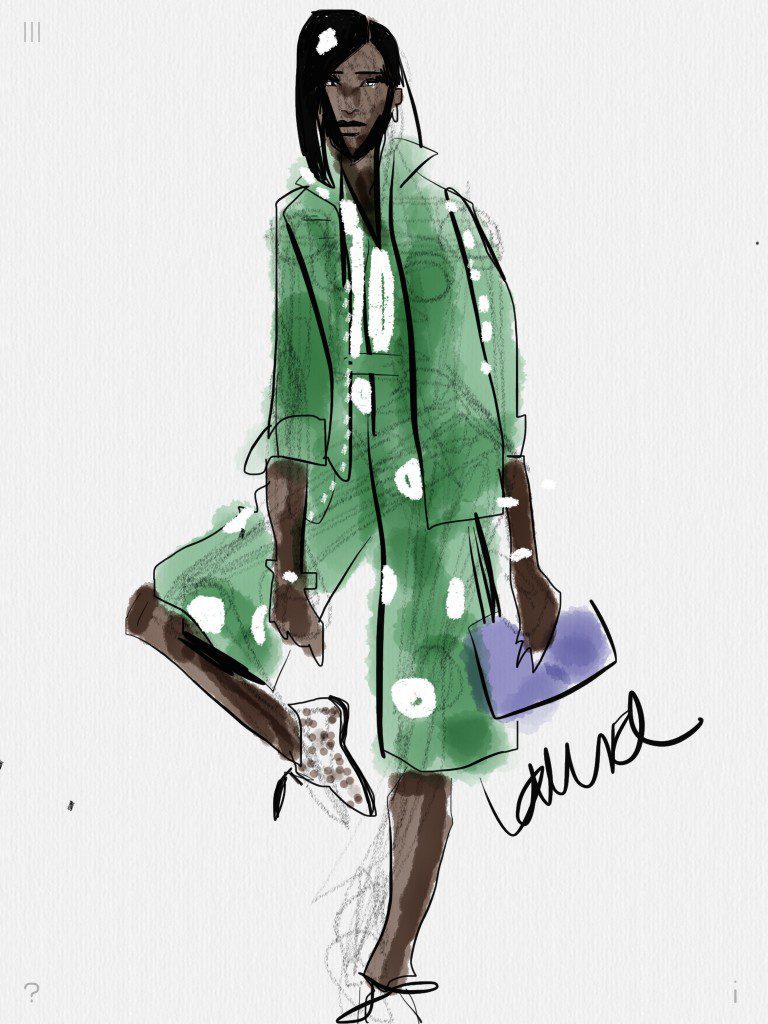 And… you all know I'm obsessed with "framing your work", so here is an example of how framing and signing affect the image :0)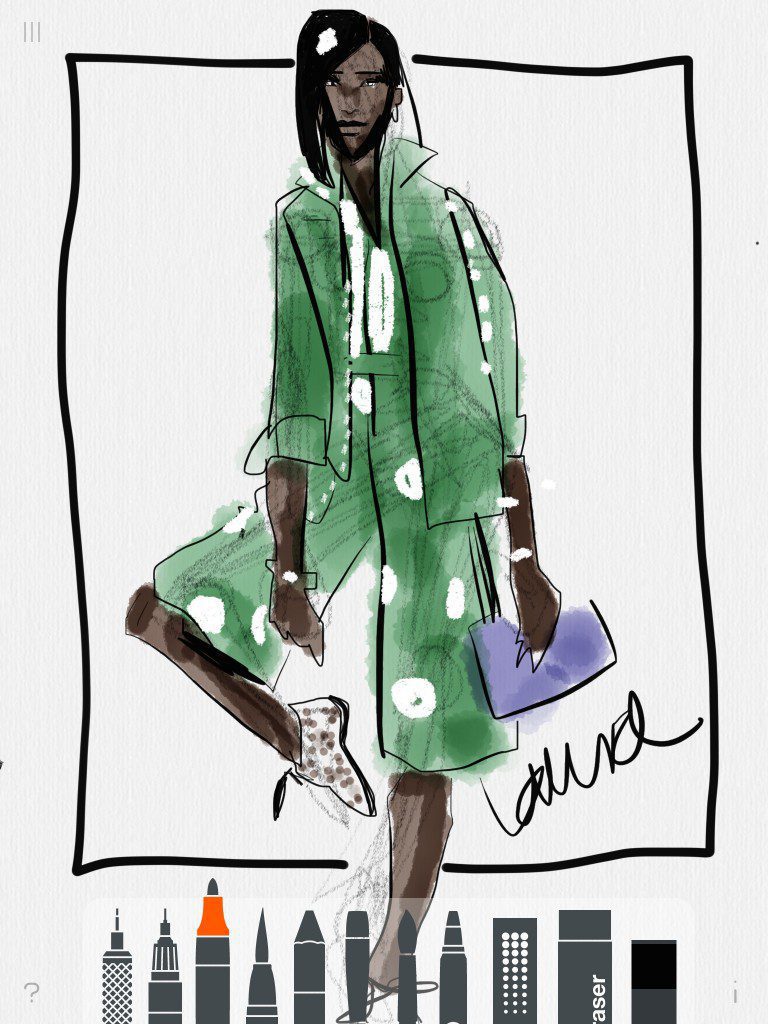 The next step below was the least fun…..
except that I did it at an ice cream shop, so that eased my pain.  I went in and added all of the detail with the pen tool of the black part of the pattern. If there weren't a ZOOM tool, it would have been worse, remember my iPad is a MINI.   In Tayasui Sketches app, you zoom by spreading two fingers on the screen, and you can UNDO actions or strokes by sweeping with two fingers to the left.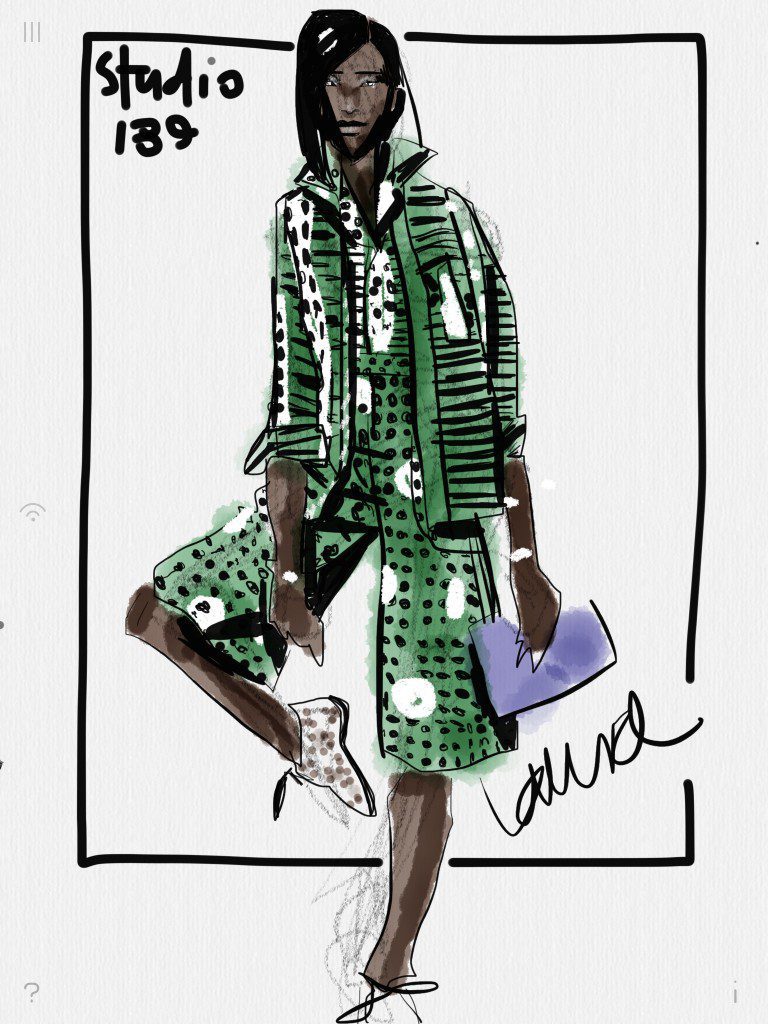 Finally I reviewed my fashion illustration for any missing details: I found that the batik could look more "crackly " if I scribbled pencil tool over everything in dark grey. I added a little gold makeup to her eyes to bring the face up more.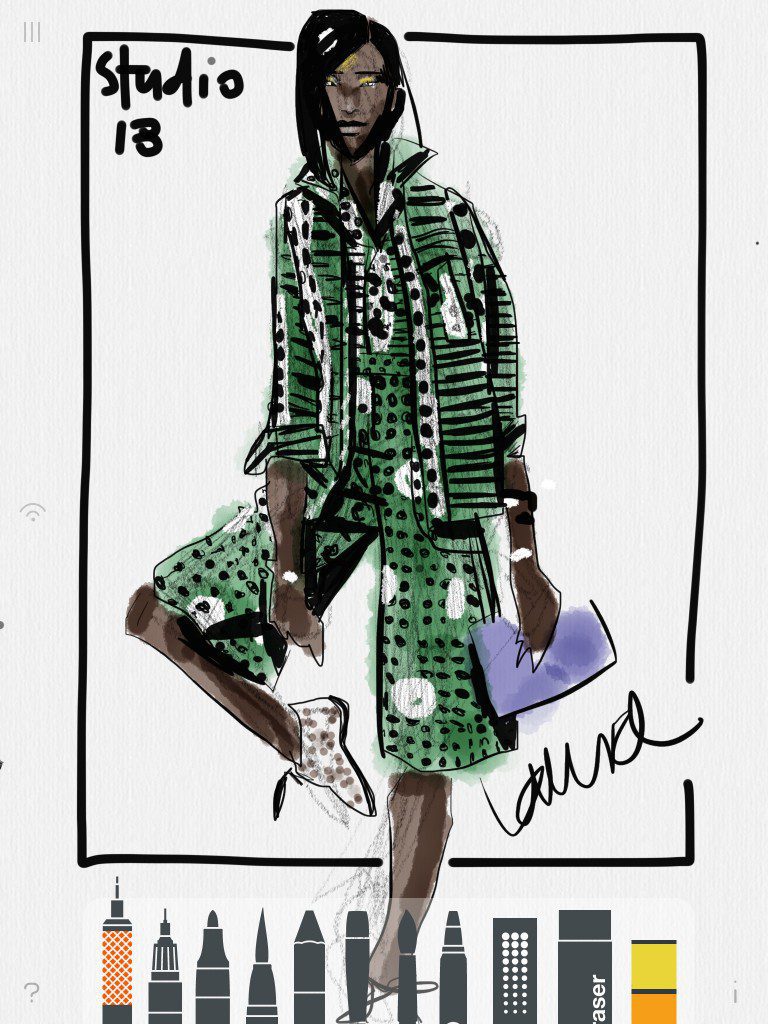 But nothing at all compares to having Studiooneeightynine.com share my illustration on instagram. Especially because I didn't know they had tens of thousands of followers or were connected to artisans in Ghana… I just liked the pic. Now i see what an amazing company they are.  I am so happy for this moment! I would love to know if this is helpful for you, or if you have any questions! Are you going to try the app? HUH?
Soulful Fashion Foundation Immersion
is in its first week for the Spring session. Are you coming aboard? I have one single moms scholarship available. Just complete my free course to apply and email me your results. Visit the
scholarship
page for info!! Don't forget to join the
Fashion Tribalistas Facebook group
to share, support, ask, inspire, and be inspired! Much love, always, Laura