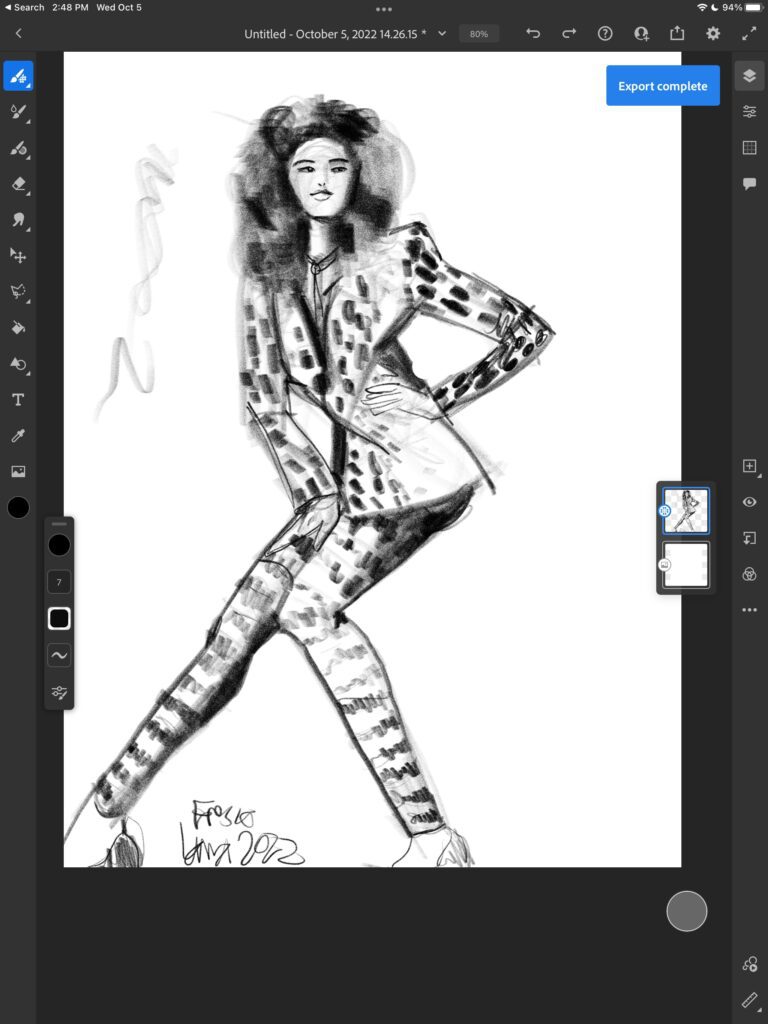 YOUR INITIATION into Fashion Sketching on iPad!
My iPad has become such a handy and essential, beloved and soulful tool for fashion illustration and design sketching for me, and today I want to share with you why and how…. I made it feel like HOME in SPITE OF MY RESISTANCE in hopes that it paves the way for you to have an easier transition into digital fashion sketching. (Please understand, at the outset I really hated the digital medium!!!)
It's my intention that this post gets you started off in the easiest way possible with a few targeted mega-tips for fashion sketching on iPad, along with images and tutorials to show you the versatility and joy of working with apps.
**For an additional boost, you can set up a coaching package with me, but there is no substitute for diving in and spending time in the apps learning the landscape. All I can do is guide you the quickest way toward your desired destination and save you some time finding your own way (along with getting to know you and what you ultimately are looking to acheive in your art and design–and life! — journey.***
So, let's begin:
1. Getting "grounded"
A big thing all of my students and clients know about me is being in/ creating from the whole body and not all in the head or cramped into just our fingers or our eyes.
MUSIC will bring you into your body and a flow state. Making sure that you are in a thoroughly comfortable situation /position will ensure that your sketches relfect that ease, joy and comfort (i like to curl up in a corner of the sofa with my iPad since I cant do that with traditional paint, water cup, etc).
FINALLY- and this is KEY- play with a stylus for a while if you want but if its feeling totally slippery, cold, and disconnected (I find that feeling really distracts me from my creative flow)- and then SWITCH TO THE FINGER. No, you probably won't work only with your finger forever, but starting and exploring/discovering with your finger instead of a stylus will help you physically and psychologically transition and make the connection between your body and the medium.
Drawing with my finger really became the saving grace to get me to "cross- over" into ipad fashion illustration. I desperately needed that grounded physical relationship between my self and the lines and strokes I was laying down.
ALSO, because you can ZOOM into your page when fashion sketching on iPad, it's not such a problem that your finger is larger than a pencil tip!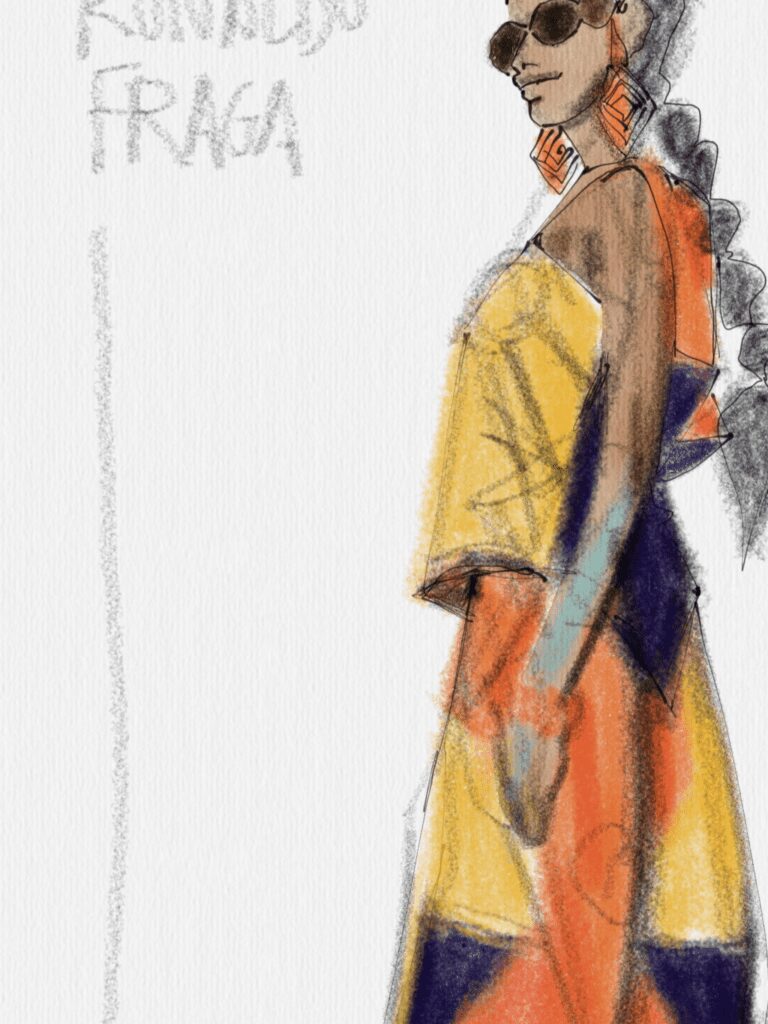 2. Choose/ Try a Stylus for fashion sketching on iPad
There's a lot to consider about stylus for fashion sketching on iPad.
To keep it simple, Apple Pencil is fabulous. Many apps have special capabilities when you use them with Apple Pencil, but promise me you won't fool yourself into thinking that your illustrations are/ have to be "less than" because you don't have some tool, because it just isn't true. You can always make it work by maximizing the capabilities of what you have on hand, I love to take limits and turn them into benefits.
With Apple pencil, I love that when you use it on its side you can get wide areas of soft tone in pencil, for example. Those are the same things that I LOVE about a real, soft pencil. The delicate smudgeability and variation of tone. The other BENEFIT of Apple Pencil is the super fine tip for exacting work, which a stylus like 53 pencil doesn't have.
Another stylus I think everyone should own is the Sensū stylus. (portable version here) You can use them with anything, not only the iPad (which the Apple pencil works only with iPad), and you never need to charge them. Sensu stylus is so fun for fashion sketching on iPad because it looks and feels like a paintbrush.
Just BEAR IN MIND that it is still a stylus, and doesn't actually spread its lines like a real paintbrush would when you apply pressure. The bristles spread of course, and it feels amazing, but it's still a line according to the tool you've chosen to draw or paint with. I ONLY RECOMMEND IT because of its wonderful novelty which will inspire you to move differently on the glass, and ALSO BECAUSE it moves more slowly than a plastic stylus.
There are SO MANY styli to choose from, my top criteria when selecting a stylus are:
doesn't scratch up or damage my glass screen (read reviews before buying)
isn't TOO SLIPPERY- sliding too fast along the drawing surface makes me feel out of control and rushed, and unnatural compared to paper and pencil or brush (more on that below)
comfortable to hold
doesn't lose charge too easily or fast
doesn't get lost too easily doesn't break or need maintenance
3. Glass Surface manageability
My biggest issue with digital fashion sketching on iPad was that most apps looked cold, flat and lifeless compared to the rich luscious and organic qualities of paint on paper. But I solved that issue when I found Tayasui Sketches– it perfectly replicated all of the warmth of a natural analog process.
But having a gorgeous, lush app to recreate your favorite experiences with art -store- art- supplies for digital fashion sketching is only half the battle- it LOOKS like the real thing, but you can't experience the joy if you HATE WHAT THE MEDIUM FEELS LIKE: plastic in your hand, pristine glass and metal on your lap.
YOU CAN remedy this situation with a sticker :0). PAPER-LIKE (and other similar screen films) give a matte finish to your screen surface while also giving it a slightly gritty texture that (this is key) SLOWS DOWN the slipperiness of your stylus.
This feels more like pencil and also gives you more reaction time to FEEL into your lines and strokes rather than feeling dragged along on a runaway train.
TIP: if your screen film comes with a youtube tutorial on how to apply it, WATCH THE TUTORIAL!!! it's trickier than you think at the outset and you'll save yourself so much time and headache if you just inform yourself ahead of time. Most brands give you 2 films so you have room to mess up.
TIP: DOUBLE CHECK to make sure you are purchasing the right size screen film for your digital device or iPad model.
4. CHOOSE AN APP for FASHION SKETCHING on iPad
There are quite a few apps for fashion sketching available out there- just do a search and you'll be overwhelmed!
I think it can be fun to download and play around in some apps, ( try out the free versions first, of course, to get a taste) but it can also be an energy leak, rabbit-hole, timewaster. I'd say, date before you commit :0) That's all up to you!
I am just one fashion illustrator, you can ask around but here are some of my top recommendations:
5. DRAW- EXPLORE- PLAY!
Collect images from the web or magazines to use as inspirations to sketch from. Pull up different colors and tools to learn the "lay of the land" of an app.
***VERY IMPORTANT TIP: if you urgently need an app for a project, grab one and MAKE IT WORK. Don't dabble around.
***If you DO have time, i recommend that you ALLOW and INVITE and EXPECT to "play and discover" with curiosity. Dabble, explore, try different apps and you'll immediately notice the main similarities and differences that make apps apps and make them useful for your fashion sketching, fashion illustration, and design work.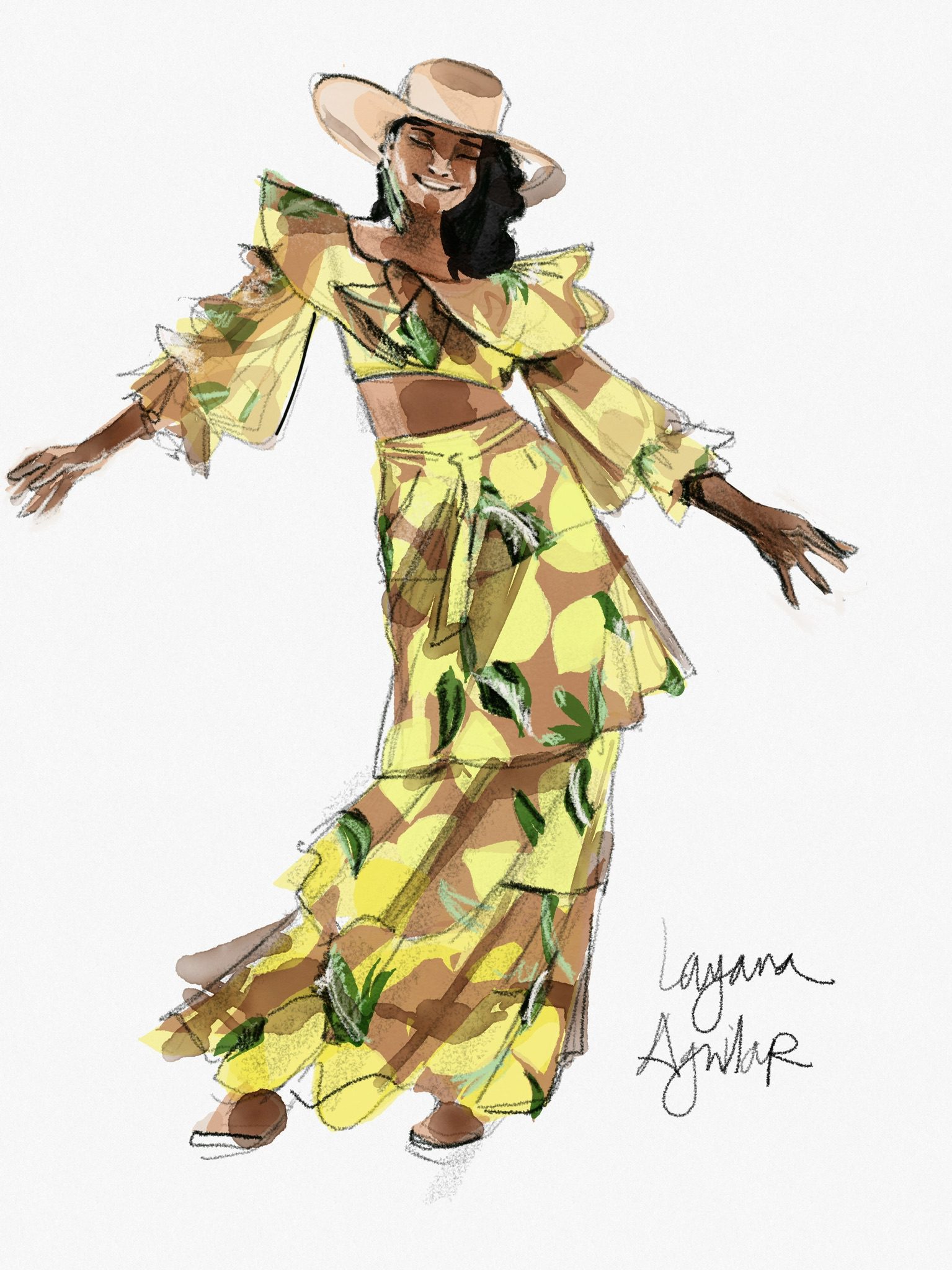 We ADORE fashion sketching on iPad apps for these features:
zoom (finer detail)
copy and paste (for multiple figures or variations in a row)
erase
layers
timelapse and screen recording
color picker- easy to select ro match colors
eye dropper (matches colors you choose from your drawing or images)
selection of brushes, pencils, markers, paints
fill tools (fill shape with tone- paintbucket)
history and undo/redo
clear vivid images for sharing on the web
editability
import and export image (import swatches, inspiration or croquis template)
reordering layers (place paint behind pencil)
opacity adjustability for paints, pens and pencils (opaque or sheer fabrics)
size adjustability for brushes, pens, and pencils
6. WORK WITH ME:
my courses and resources page shows you masterclasses and programs available for self-study or in tandem with coaching with me to really integrate and boost your growth , depth and development with encouragement and troubleshooting.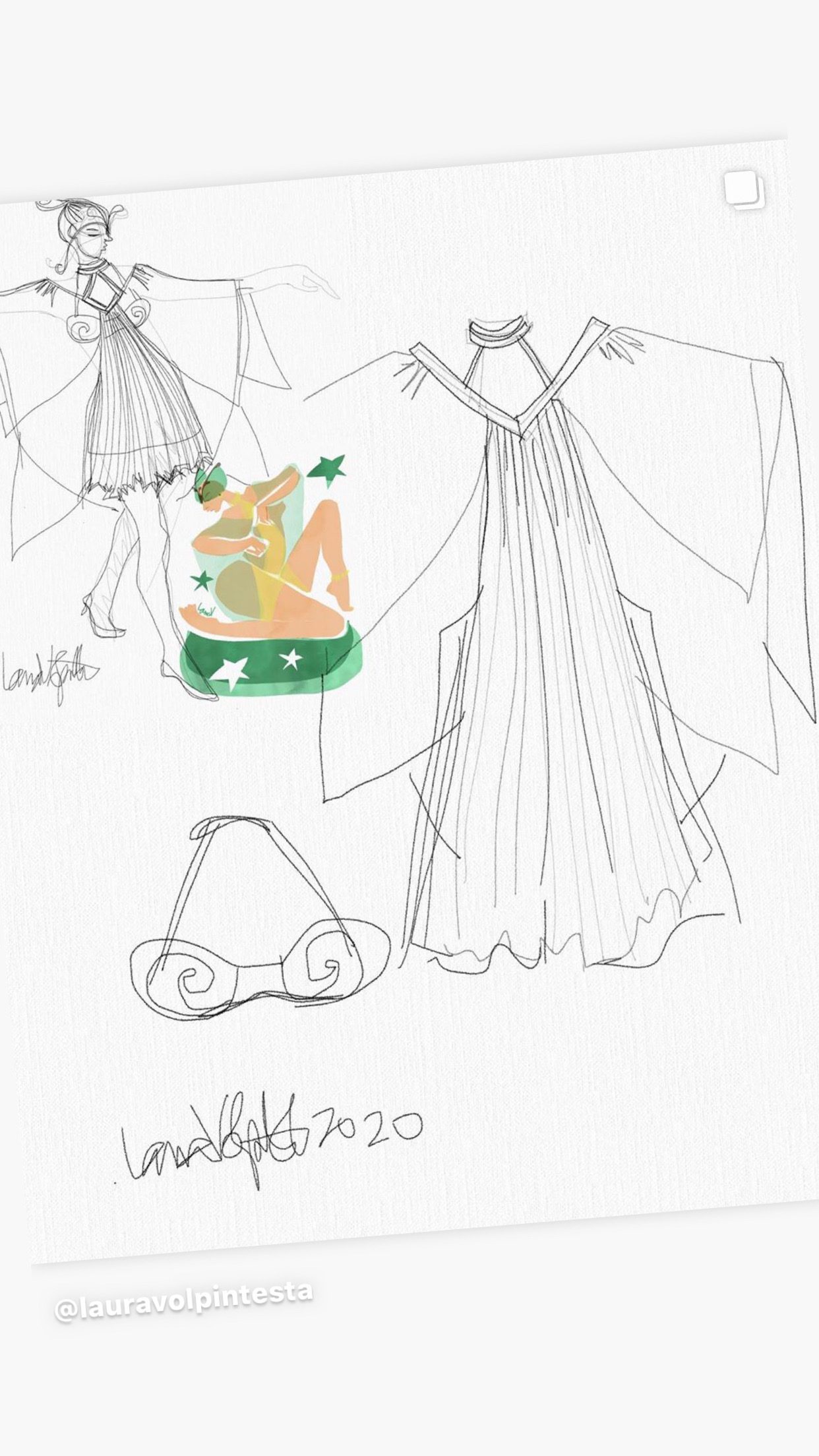 I hope this information- packed post gives you the boost you need to dive in there and get started!
I'm here to help with coaching packages and courses to help you with your fashion sketching journey. I teach professional skills for fashion illustration and fashion design as well as creative coaching to get you more aligned in the role your creativity plays in your life, career, family, finances, relationships, etc.
Check out my course programs linked here on the site, or email info@fashionillustrationtribe.com for more info on coaching. I love to hear from you.
and subscribe for more updates!
Here's to your discoveries,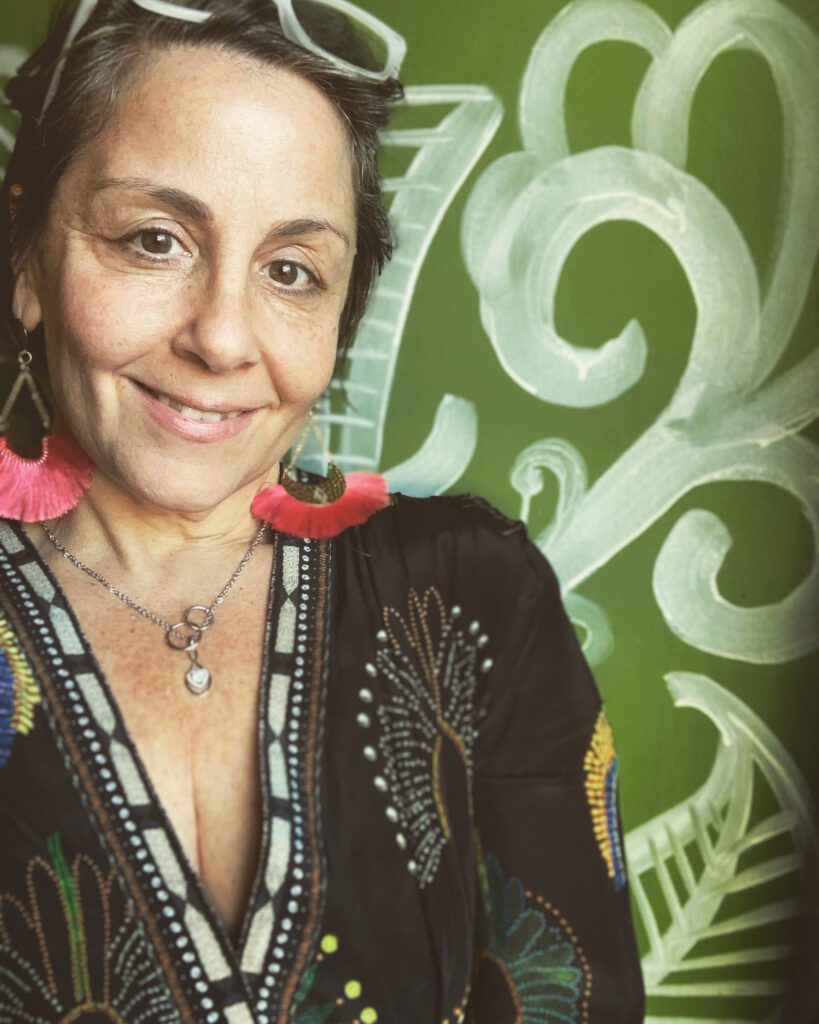 Laura