Let's explore two of my favorite things in one post: Digital Goddess Art on Tayasui Sketches Pro app! (which costs a whopping $5)
It looks like watercolors, doesn't it?
With black waterproof ink pen? On colored, textured watercolor paper? Natural, right?
I know, this is ONE of the reasons why I love Tayasui Sketches app for fashion illustration and Goddess art.
The first few images are zoomed in. As you move down the page, you'll see some step-by-step digital Goddess art on Tayasui sketches to get a peek into the process and tools.
The original photo I worked from was from a headdress by carnavalesco Pat Caetano.
I'm creating these pieces during the period anticipating Carnaval in Brazil.
By the time I was a teenager, I was so in love with fashion magazines. I found the Goddess there. Where I lived, we all ran around in Tshirts and maybe blazers (it was the late 80s). But in fashion magazines, there was so much more. Colorful and detailed, unique adornments. Brand new ideas. Individual style beyond anything I'd ever seen. Handcrafted couture garments. Precious, radiant, magical adornment. Brilliant colors, sparkle, shine, and the female body wasn't hidden, it was sensual, alive and present.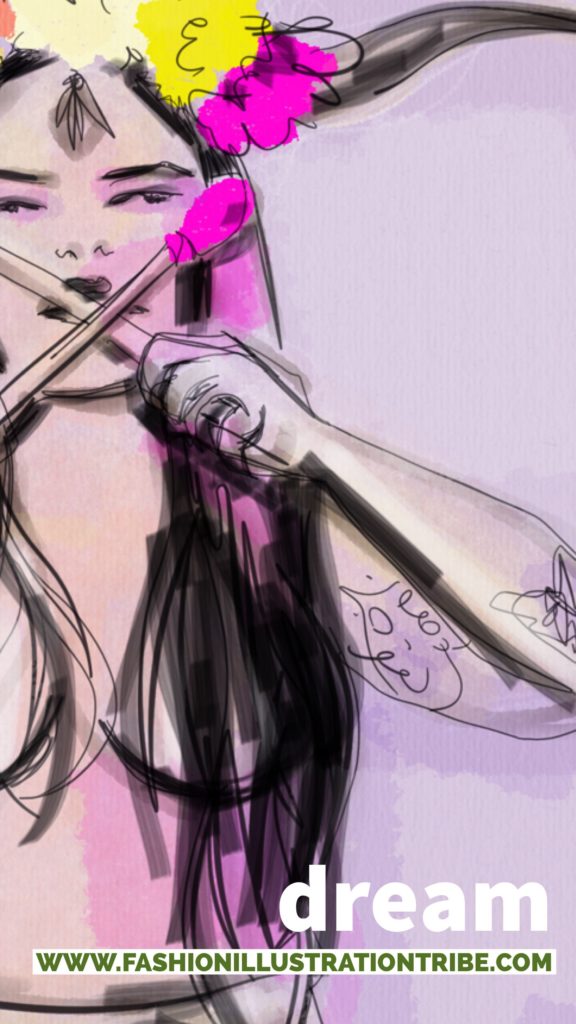 Digital Goddess art.
Thing is, a lot of times those bodies were unattainable, as well as those clothes, perfumes, jewels and decorations.
In Brazil's carnaval and culture in general, I found that MY body was glorious. I found that ALL bodies were glorious.
All colors are glorious. Every woman's shape is glorious.
I found in carnaval women decorated themselves as gorgeously as any couture fashion editorial.  Some spent a fortune, some just pulled together whatever they could from what they had.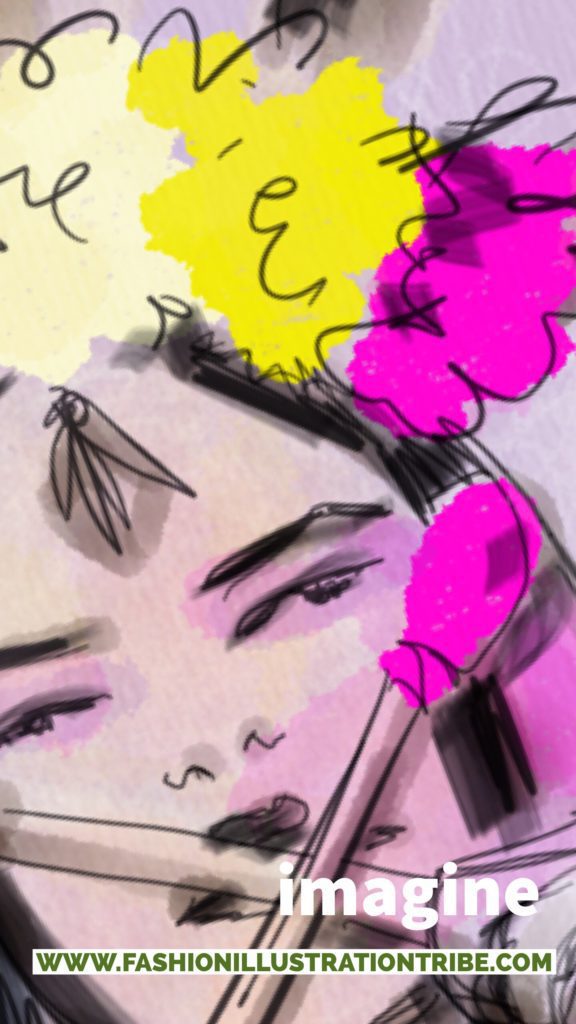 (Check out my pinterest boards on the carnaval adorment, costumes, and makeup).
This carnaval costume features drumsticks, which I love too.. the music and drumming is so exciting to me!
Tayasui Sketches Pro app
is an app I've written about so many times. It's available for computer, iPad, Android, Wonderful and versatile.
It's the single app that took me from beginner to deep into loving digital painting apps. Tayasui Sketches Pro app taught me the language of digital painting on my ipad (it was an iPad mini at the time).
Once you learn the language of digital painting apps (through exploration) , it is easy to learn other digital drawing apps. BUT TAYASUI SKETCHES PRO is really my single recommendation for beginners.
MY Digital GODDESS ART PROCESS
I sketched this from an image I found on my instagram feed. There are a  whole bunch of accounts I follow from carnavals around Brazil: #carnavalderua is my favorite hashtag because I love the STREET carnavals especially in Recife and Bahia, but also in Belo Horizonte, Sao Paulo, and Rio.
FIRST I chose a paper color. I tinted it purple like the photo I worked from which had a purple background.
Next I sketched with a white pencil to 'MAP OUT" the size and location of the elements of the drawing. (I use this technique a LOT!)
Watercolor is next in line. The  process for goddess art on Tayasui Sketches Pro app or fashion illustration is really the same that I use on real paper!!
I almost ALWAYS choose a SKIN TONE first in my goddess art. To me, skin-tone brings my illustration to life, even if it's just the face and hands showing!
MAPPING OUT THE Digital GODDESS ART: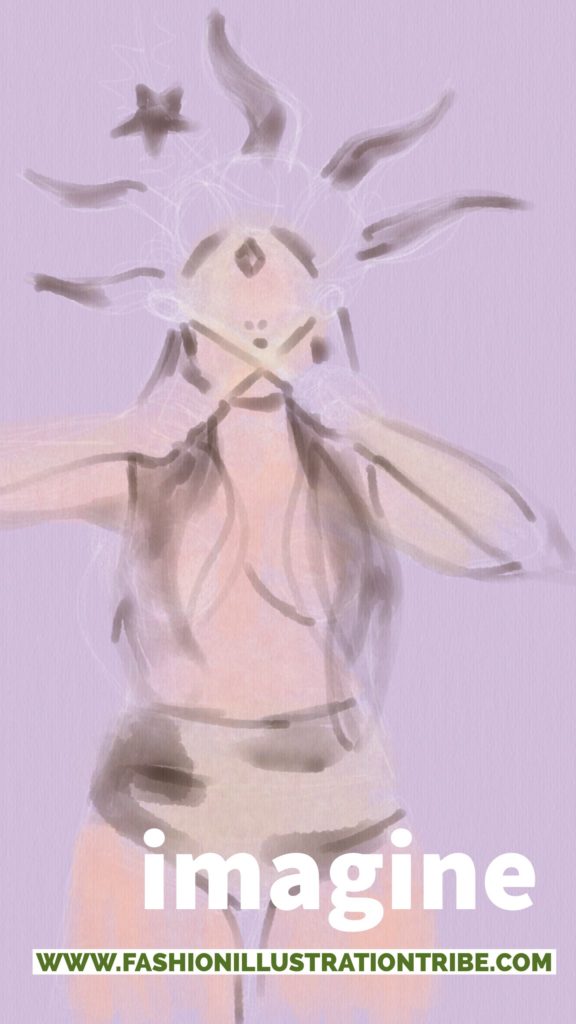 this Goddess was wearing metallic hot pants, I always remind my students that metallic is about that high contrast between the dark and the light. I plotted that out with the watercolor brush again. The star and sun elements on her headdress also were metallic.
I used a very fine watercolor brush (see above) to create the LINES of grey watercolor, but a LARGE watercolor brush for SHAPES of skintone and shadow.
BRIGHTENING THE Digital GODDESS ART: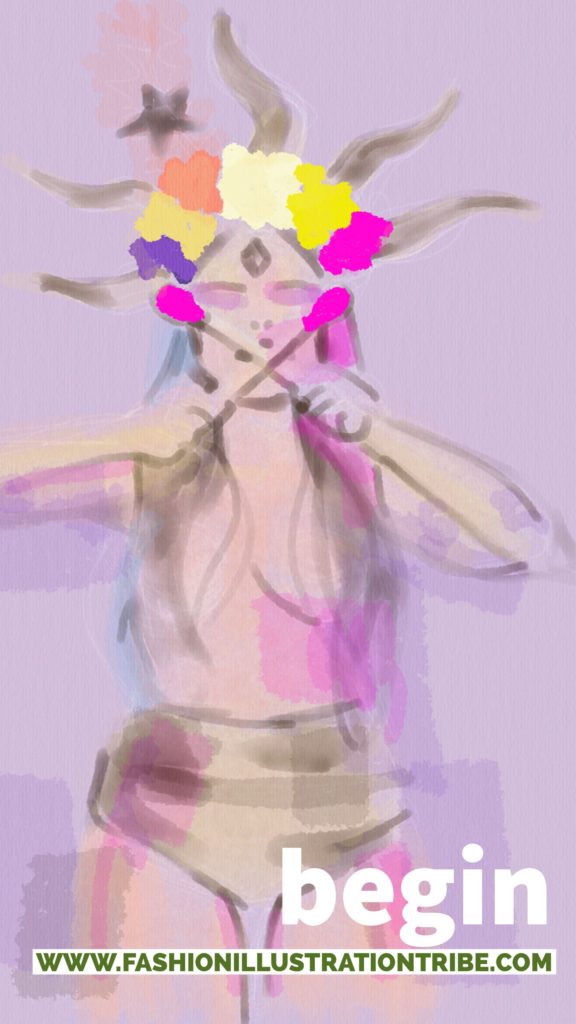 I wanted to make sure that the flower crown was opaque and really bright. The  CRAYON tool is perfect for that- because I know that  it's opaque in Tayasui Sketches Pro app. I loved how much brighter it looked than the watercolors.
Because I was using the Apple pencil, I got extra functions. I was able to use the SIDE of the apple pencil to get a completely different effect from the crayon!! See the pink and purple square shaped areas in the background  in th epic above? That's what happens with the crayon when used on its side. (I definitely had to adjust the setting /slider in the app to make it sheer)
YOU DO NOT NEED A STYLUS TO ENJOY THESE APPS by the way. I use the ZOOM -ability to get in on details when I'm "finger drawing".
This photo was taken under pink and purple lighting, which was so fun to capture here.
DEFINING THE Digital GODDESS ART:
.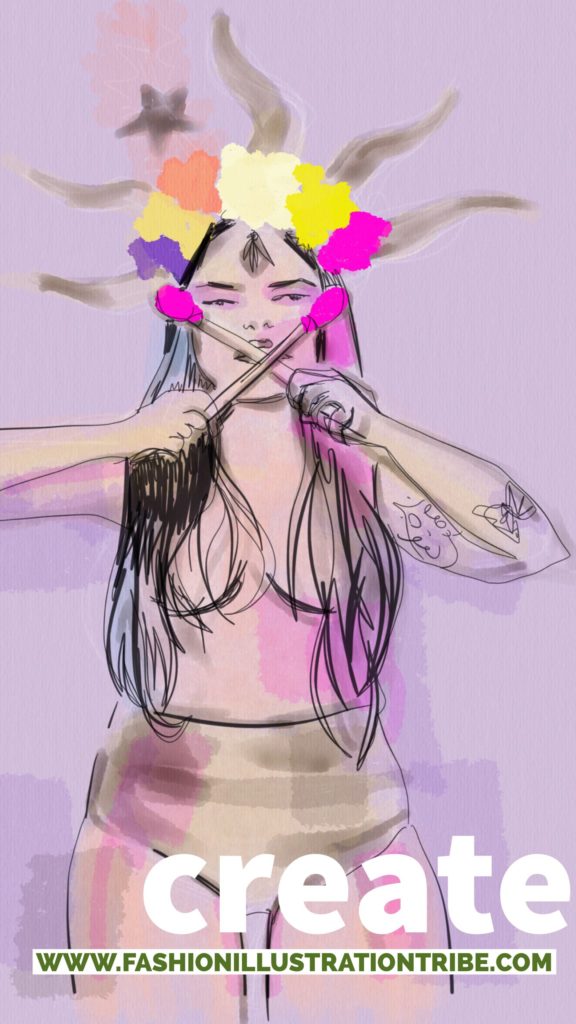 I really needed some "wet, dark black" to give a final "pop" to this drawing. (at least, I thought I did) so…. A chisel tipped marker to make her hair look rich and frame the goddess' face and body.
A fine brush pen  gets expressive lines on the face, headdress.. I also used this Tayasui Sketches Pro app tool (that all digital drawing apps offer) to make the feathers and flowers look soft and textured. I also drew her tattoos with it :0)
My intention today is to inspire you
My wish is that you'll be called and drawing to create, explore, and invoke the Goddess. What does Goddess mean to you?
What images and references come to mind? Which emotions and qualities?
Who do you think of when you hear the word Goddess? How could you incorporate visual or emotional qualities of them into your Digital Goddess art?
My wish today is that
you will try digital goddess art on Tayasui Sketches app so that you can have a fresh, inspired, delicious experience.
I hope that Tayasui will become something you enjoy for countless hours and creations to come.
and use DIGITAL PAINTING APPS in your digital device WITH ME online on your schedule in my course "ABOUT FACES"
Explore, discover, express.
Love,
Laura